Beginner Guitar Lesson with Chet Atkins – Part 2
In this post, the second of a series, I continue to explore the hidden depths of a seemingly simple beginner guitar lesson given by Chet Atkins in the below video, by examining the chord progression.
The chord progression that Chet uses for the 'scale tune' (starting at 1min 35secs) is at a nice slow 4/4 tempo.

Here it is with the count added.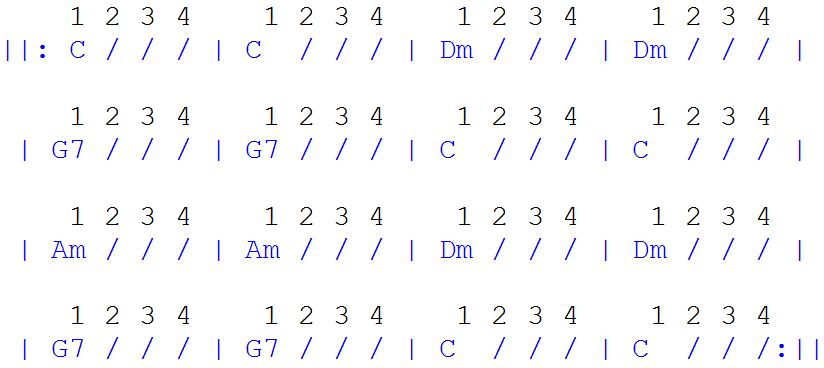 To gain maximum benefit from this study I recommend you play and record a loop of this chord progression.
The 1st student in the video is playing the chords using a simple finger-picking pattern which you could follow. Or you could play a 1, 2 or 4 strum per bar pattern. Another option is to play a pick-strum pick-strum pattern to give you a bass note on counts 1 and 3. You could play the Root note on counts 1 and 3 for all chords. A further option is to do pick-strum pick-strum but change the bass note that you pick like this:
Root (5th string) then 4th string on the C and Am;
Root (4th string) then 3rd string on the Dm;
Root (6th string) then 4th string on the G7.
More later …
I teach guitar specialising in Beginner and Intermediate lessons. Read more here.
To book your beginner guitar lessons with me click this link.